Today is:
Aloha!
Mahalo for visiting my site! This site is dedicated to providing one home for all types of Polynesian events and clubs, not just Hawaiian. If you are a SF Bay Area resident of Polynesian decent or just Hawaiian-at-heart, this is the place for you! Have you ever wanted to take a Tahitian or Hula dance class in the Bay Area or would you like to find out where you can see these women perform? Go to
POLYNESIAN DANCING
to find more information. Would you like to know what events are going on in the Bay Area this summer? Click on
EVENT CALENDAR
for more information.
This site is also KID-SAFE. Visit the Keiki Club for coloring pages, games, and more! More items added daily!
LOOKING FOR SOMETHING TO DO THIS WEEKEND?
How About Tonight?
Friday, 11/30/2001
Hawaiian Invasion Pre-Party -
Featuring Natural Vibrations
Cover charge: $10.00 per person
21 Years Old and Over
Information: Sun Jose Hawaii (408) 281-9262
Kona Gold SF
Rick's Restaurant and Bar
1940 Taraval Street (at 30th Avenue), San Francisco
7:00 - 10:00 pm
Information: (415) 731-8900
The Kapalakiko Hawaiian Band
1581 Webster Street, San Francisco
7:30 pm - 10:30 pm
Information: (415) 440-4854
HURRY!
SEND IN YOUR PHOTOS FOR THE PHOTO CONTEST!
Don't miss your chance to win CASH & PRIZES!
DON'T FORGET TO SIGN THE GUESTBOOK!!! MAHALO!
Bay Area Hawaiians presents: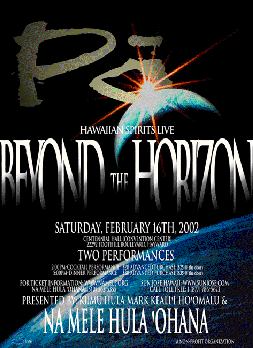 Na Mele Hula 'Ohana
is a non-profit organization with a dual purpose. It is dedicated to the preservation of traditional Hawaiian values, yet pursues the perpetuation and expansion of Hawaiian cultural horizons, with instructions in the hula, and the traditions of Hawaiian craftmanship. The halau is self sustaining, soley producing it's annual concert series and premiers at various events throughout the year. With your generosity and patronage you will help support their efforts in hula and craftmanship of Hawaii to a flourish in the Bay Area and abroad. Na Mele Hula 'Ohana is prepared to recognize all donors in the upcoming program and offer the following gifts for your monetary support:
$25-$50 - Commemorative program
$75 - Commemorative program and poster
$100 - 1 Premier VIP ticket (2pm Cocktail show) + commemorative program and poster.
$150 - 1 Premier VIP ticket (7pm dinner show) + commemorative program and poster
$200 or more - 2 Premier VIP tickets (7pm dinner show) + commemorative program and poster
12-2pm or 5-7pm - Premier VIP service: Enjoy cocktails at our open bar in the Premier Patron Room and help yourself to brunch/dinner. Your escort will prompt you and show you to your reserved seat. (There is also a VIP entrance and an escort waiting for you, please don't stand in line.
To make a donation, send to:
Na Mele Hula 'Ohana
10700 MacArthur Blvd. #5
Oakland, CA 94605
(510)562-5355
Subscribe to our monthly newsletter
ke This Site?
Pass it on by clicking here...