Event Calendar

Bay Area Hawaiians and
The Kumu Hula Association of Northern California
present: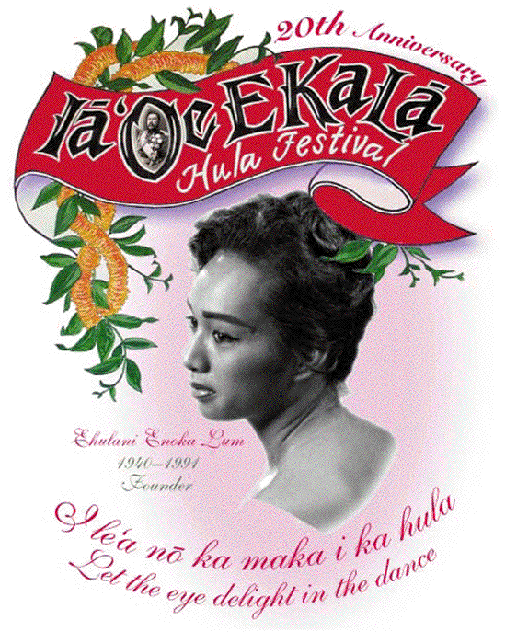 November 3 - 5, 2001
Alameda County Fairgrounds, 4501 Pleasanton Avenue,
Pleasanton, California
Competition will be held in the Young California Building
Arts and Crafts booths will be held in the Exhibition Hall and the Hall of Commerce.
For More Information: Please call Ingrid Garlasa after 7:30pm, Monday - Friday at (650) 355-6451 or email igarlasa@earthlink.net
For Arts & Crafts Booth Information: Please call Allennette Lum at (808) 259-0088 or email: allennettelum@cs.com
Competition Categories:
Keiki - Wahine - Kane - Gracious Ladies - Kapuna - Musicians
Competition Schedule:
5:00-10:00pm, Friday, Nov. 3 - Solo Competition
111:00am - 6:00pm, Sat & Sun, Nov. 4-5 - Group Competition
Booth Area Time: (Food, Arts & Crafts, Event T-Shirts, Raffle, Posters)
Friday 3:00 - 10:00pm
Saturday and Sunday: 9:00am - 6:00pm
Cost: $10.00 per day or $25.00 for all 3 days
(There is a seperate fee per car to enter fairgrounds.)
NOTE: Video tapes of the la 'Oe E Ka La Hula Festival 2001 will available for purchase.
MASTER OF CEREMONIES:
Hau'oli Akaka
JUDGES:
Holoua Stender
Keith Anai
Keali'i Reichel
Pa Mai Tenn - Alternate
Puakea Nogelmeier - Hawaiian Language

Ka Hale Hula 'O Pilialohaokalani

Kumu Hula: Pilialoha Christiansen

Oxnard, CA.

Keolalaulani Halau 'Olapa O Laka

Kumu Hula: Aloha Dalire

He'eia, Kane'ohe, HI. & San Francisco, CA.




Na Hula 'O Moku'aina

Kumu Hula: Catherine U'ilani Blankenship

Danville, CA.




Ka Pa Hula Kanoelehuaokahalema'uma'u 'O Kalama

Kumu Hula: Naomi Leina'ala Kalama

Carmichael, CA.




Hula Halau 'O Kamuela Elua

Kumu Hula: Kunewa Mook / Paleka Mattos

Burbank, CA.




Halau Hula 'O Hokulani

Kumu Hula: Hokulani DeRego

Waipahu, HI.




Halau 'O Ku'uleinani

Kumu Hula: Renee Ku'uleinani Price

San Carlos, CA.




Na Mamo No'eau

Kumu Hula: Rick No'eau Smith

El Portal, CA.




Hula Halau 'O Pi'ilani

Kumu Hula: Linda Pi'ilani Danek & Kanani Densing

Santa Clara, CA.




Keali'ika'apunihonua Ke'ena A'o Hula

Kumu Hula: Leimomi Ho

Honolulu, HI.




Ke Ola Loa Polynesian Dance Studio

Kumu Hula: Moe Tanaka

Hayward, CA.

Mele 'Ohana

Kumu Hula: Anthony Kahoku Tauvela

Tokyo, Japan




Na Mele Hula Ohana

Kumu Hula: Mark Keali'i Hoomalu

Oakland, CA.




Hula Halau 'O Nalua

Kumu Hula: Nalua Manaois

Fremont, CA.




Halau Na Wai Ola

Kumu Hula: Keala Ching / Kau'i Kahaku

Sunnyvale, CA.